Erotic massages – The definitive massage guide for VIP escorts,
If you decided to undertake this profession, you will know that many people hire the VIP escort service, as an escape from stressful and monotonous life. Users don't just want to have a sexual adventure; many times they also want to relax and enjoy the company. That's why a erotic massage it is ideal for creating a connection and softening the atmosphere.
Erotic massages do not have the sole purpose of exciting the person who receives it; As an escort you should know that they are a powerful weapon, both to relax your companion and to get to know their body. A good erotic massage represents the magic that is transmitted in soft and firm movements provided by your hands; although there are also girls who dare to use other parts of their bodies, to intensify the moment.
Maybe you've never had a chance to give a massage or you don't consider yourself good enough, but don't worry; Being magic for the senses, it has its tricks, which you can learn and become an expert.
A erotic massage it is preceded by moments, it can be divided into before, during and after the session; in turn requires a series of accessories that you must choose wisely. Without further ado, keep the following tips in mind.
Definitive guide to erotic massages for escorts
prepare the place
If you know in advance that you will have to give a erotic massage to a person who booked an appointment with you, you will have to clarify with your client where they will meet; in order to have an idea of what you can take and that it is useful for your mission.
Being an exciting and relaxing experience, the setting and how you look, is the first impression that your companion will capture; Because as the old saying goes, "people eat through their eyes". On the other hand, keep in mind the senses of hearing, taste and smell.
For this, prepare a couple of scented candles and place them in strategic places in the room; considering the dim light that they provide and their aromas. Perhaps when you talked to your client, he told you what his favorite fragrances are; if not, choose those that are not too penetrating and are pleasant.
Another aspect to consider is the music, which should be at a not very high volume; that is, it must be played in such a way that it is heard in the background, but does not interfere with the communication between you. Choose soft sounds produced by the piano or select a list of seductive songs.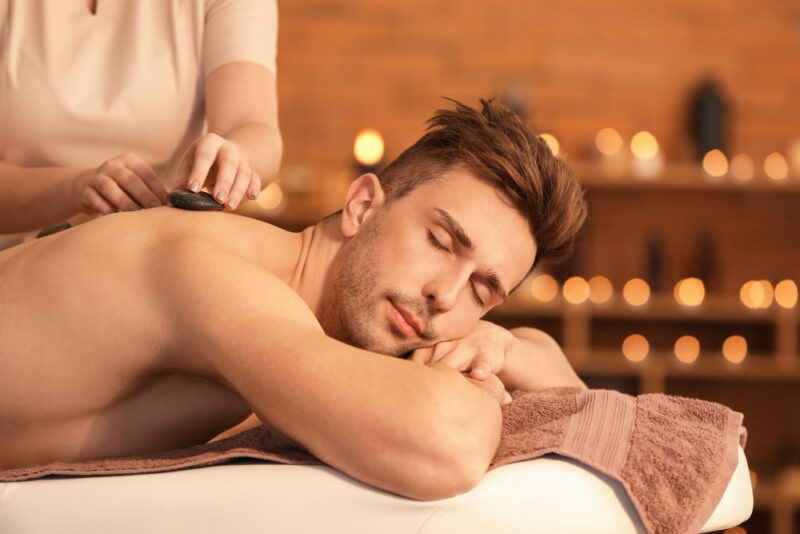 your presentation
As an escort you know that a woman enhances her beauty through her clothing and accessories. We recommend that, when making erotic massages, choose fabrics that are soft to the touch, such as a silk sarong that covers your hips; leaving between seeing your abdomen and part of your legs. This type of fabric, in contact with the skin, generates great sensations.
Your fragrance is important too. Being very close to the person, they will be able to smell your aroma; Our advice is to choose a delicate perfume or a scented cream that you can apply all over your body, this will make them lose their minds.
The elements of erotic massages
oils
A erotic massage It must be done with oils, which allow free friction between your hands and the person's skin. These oils increase the sensations, by raising the temperature with each touch that you make. Some people choose essential oils, because they nourish the skin and leave it much softer after finishing. What you must be very clear about is that these oils should not be used as a lubricant.
Feathers
The best masseuses in the world recognize its usefulness, since they serve to generate soft caresses that travel through the individual's erogenous zones. They are also effective to use as a surprise element or to pause before reaching the climax; not as a punishment, but to further lengthen the session.
bandages
This only if the person requests it, it blocks the sense of sight; forcing the person to use their imagination and focus more on what their skin is feeling. It is a flirtatious and daring element, but highly preferred among those who want to add something more when receiving a massage.
The movements
Every good masseuse knows that the only way to transmit serenity and sensuality is through marked and soft movements. With the help of the oil, start slowly from behind, changing direction from time to time. Start with the muscles that normally accumulate the most tension, such as those in the neck and shoulders.
During the erotic massage, slowly descend to the lower back, stop and make circles with the tips of your thumbs to release the tensions that normally fall in the center of the body; after that you will be ready to go down to the buttocks area, which for many is in this area where the erotic begins; so you should pay very close attention to it.
Continue with the thighs, not forgetting the inside of them, until passing through the legs and finally reaching the feet. Some are ticklish on the soles, so be careful, watch their reaction and decide whether to continue or move on to the upper extremities. Remember that everything should be slow and smooth, when an average time of 25 minutes has elapsed, surely the person will already be released from stress.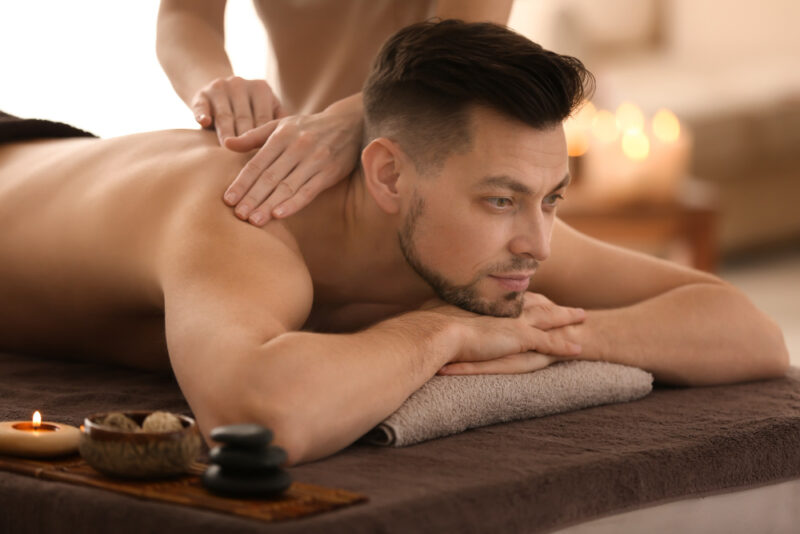 eroticism does not rest
So it's time to ask to turn face up, there the person will have eye contact with you; Give the occasional seductive look and get close enough for her to feel the touch of your lingerie. Use the breath from your mouth on his neck and ears to warm him up and massage his chest, working your way down to his abdomen.
At this point you can already think about rubbing his genitals, playing to go down his legs, whether he is a woman or a man, he will probably be aroused; use that to your advantage to give him more and more pleasure with your touch. Although many think that finishing is not the end of an erotic massage, the person will thank you without problems.
Conclusion
A erotic massage It is art, if you are an escort it is not necessary that you know everything about the culture of tantra, but without a doubt you will earn more money if you offer it within your services; so we recommend you give it a try and broaden your horizons on the subject.
In any case, we invite you to continue reading on this blog, everything related to earn money as an escort and what not to do as an escort.